In the News 2018
NYTimes
September 24, 2018: Protesters Rally Against Kavanaugh, and Back His Accusers: 'The Wave of Women is Here'
Brooklyn Reporter
August 6, 2018: $12 Million in Council Funding Slated for Bay Ridge, Dyker Heights, Bensonhurst
Brooklyn Reporter
July 25, 2018: Day of Visibility Held In Response to Racist Rant in S53
PaperMag
July 24, 2018: Arab American Activist Rama Issa Sees History Repeating Itself
News 12 Brooklyn
July 24, 2018: Bay Ridge Seminar Teaches Tactics to De-escalate Prejudicial Encounters
NY1
July 20, 2018: Residents in Brooklyn Muslim Neighborhood Urged to Report Discrimination
Brooklyn Daily
July 18th, 2018: Locals celebrate Middle Eastern culture at Ridge's annual Arab American Bazaar
Brooklyn Reporter
July 17, 2018: Arab Americans Celebrate their Heritage at 12th Annual Bazaar in Bay Ridge
Documented NY
July 9, 2018: Bitta Mostofi on Immigration in NYC
PaperMag
July 4, 2018: 13 American Cultural Leaders on What July 4th Means to Them
PaperMag
July 2, 2018: You Need these Powerful Speeches from Kerry Washington and More at This Weekend's Family Separation Rallies
Gothamist
July 1, 2018: Thousands Turn Out For "Keep Families Together" March
NPR
June 27, 2018: Families React to Supreme Court Upholding of Travel Ban
Haaretz
June 27, 2018: Jews and Muslims Unite in New York to Protest Trump's Travel Ban
Documented NY
June 22, 2018: The High Cost of the Travel Ban: Yemenis Pay Thousands to Reunite Families
WNYC
June 19, 2018: 1 in 4 Women Wearing Hijab Report Being Shoved on NYC Subway
The Bridge BK
April 27, 2018: How Bodega Owners Found Strength in Numbers
Bklyner
April 25, 2018: "Embrace Your Hyphen" - Arab American Heritage Celebration at Borough Hall
NY Daily News
April 5, 2018: Families of Mentally Ill Fear Calling Police May Turn into Deadly Encounter
NY City Lens
March 29, 2018: The 2020 Census Will Ask About Citizenship Status - and Immigrants Are Not Happy About it
Amsterdam News
March 5, 2018: Activists Crush NYPD over Buzzfeed Report
Observer
January 26, 2018: A Year After Trump's Travel Ban, Muslim Advocates Vow to Keep Resisting
Brooklyn Reporter
January 16, 2018: Bay Ridge Holds March in Solidarity with Immigrants on MLK Jr. Day
Brooklyn Eagle
October 10, 2017: Sarsour Returning Home to Receive Arab Association Award
Brooklyn Daily Eagle
July 14, 2017 - "11th Annual Bay Ridge Arab-American Bazaar brings families and fun to Shoreline Park"
Time
June 30, 2017 - "More Court Challenges Are Expected Ahead for Trump's Travel Ban"
BBC
June 30, 2017 - "Trump travel ban: Who counts as a 'bona fide' relative?"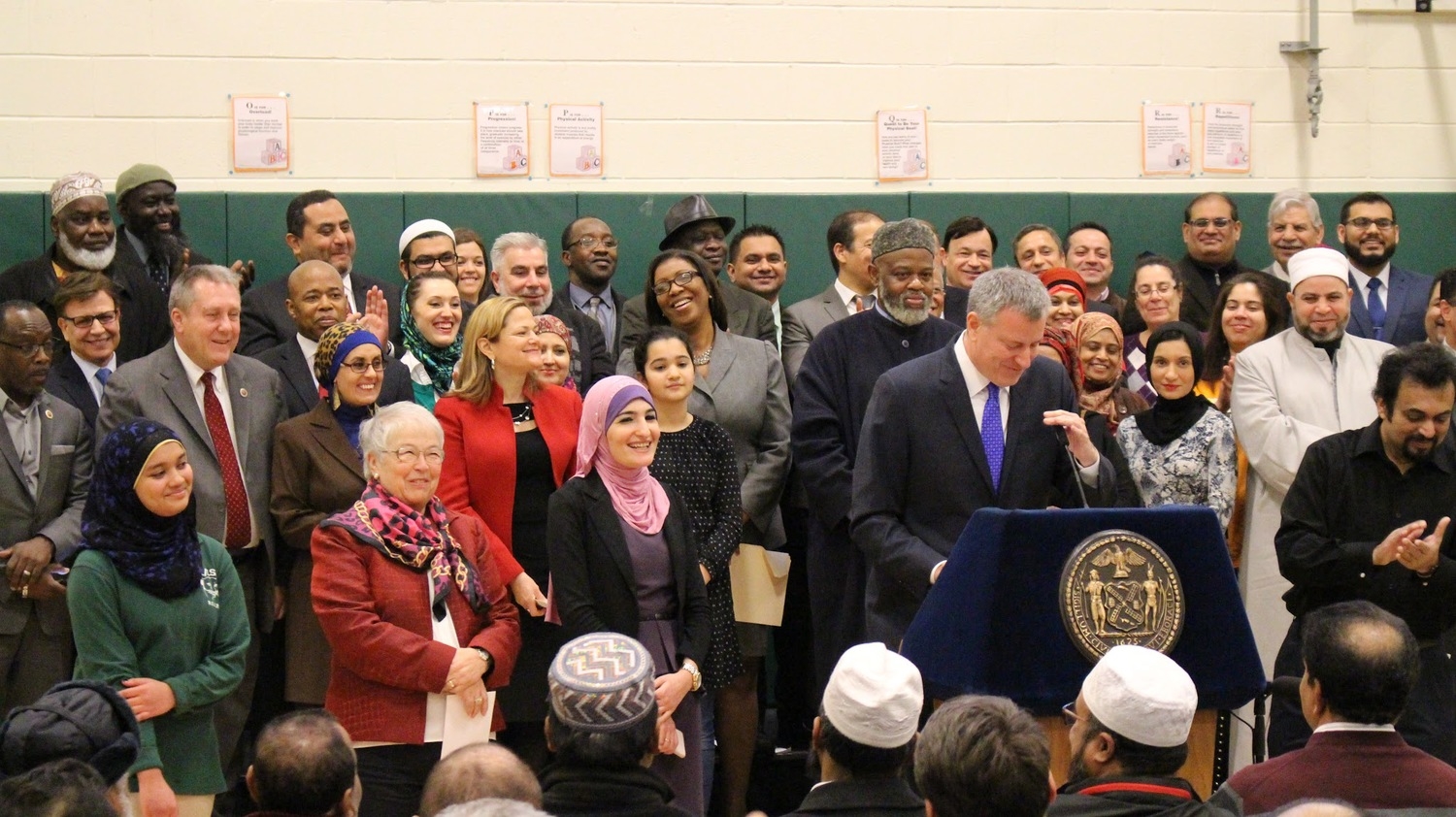 WE DID IT! Mayor Bill DeBlasio Adds 2 Muslim Holidays to the Public School Calendar
AAANY is present at the Mayor's announcement right in Bay Ridge, as he adds Eid al-Adha and Eid al-Fitr to the public school calendar. AAANY is a member of the Coalition for Muslim School Holidays, and has been organizing for the campaign for a decade.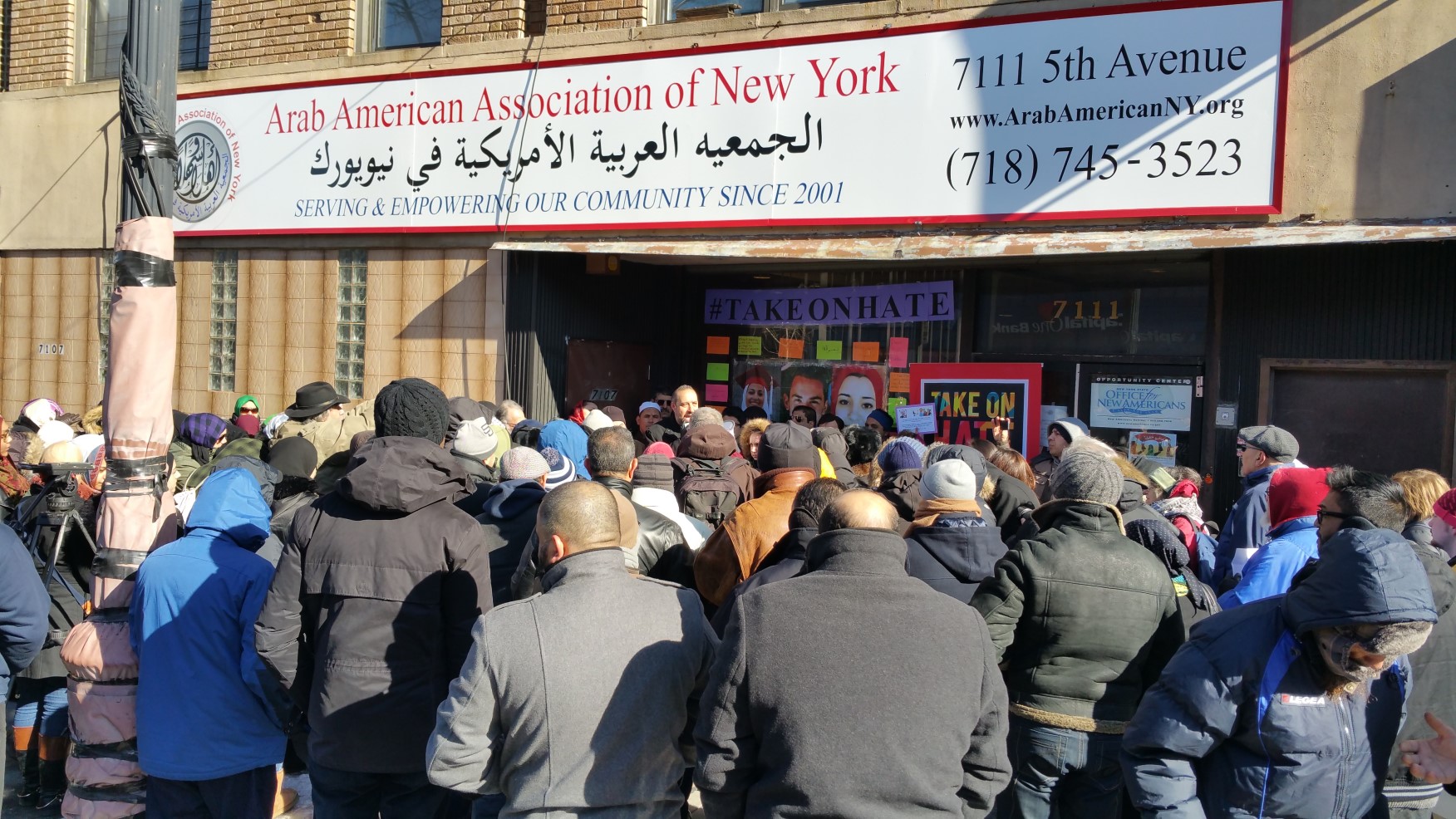 Vigil for Victims of #ChapelHillShooting
Community members in Bay Ridge attend a vigil for the 3 victims of the Chapel Hill Shooting - Yusar, Deah, and Razan. AAANY gives their deepest condolences for their families and all who are affected by hate crimes.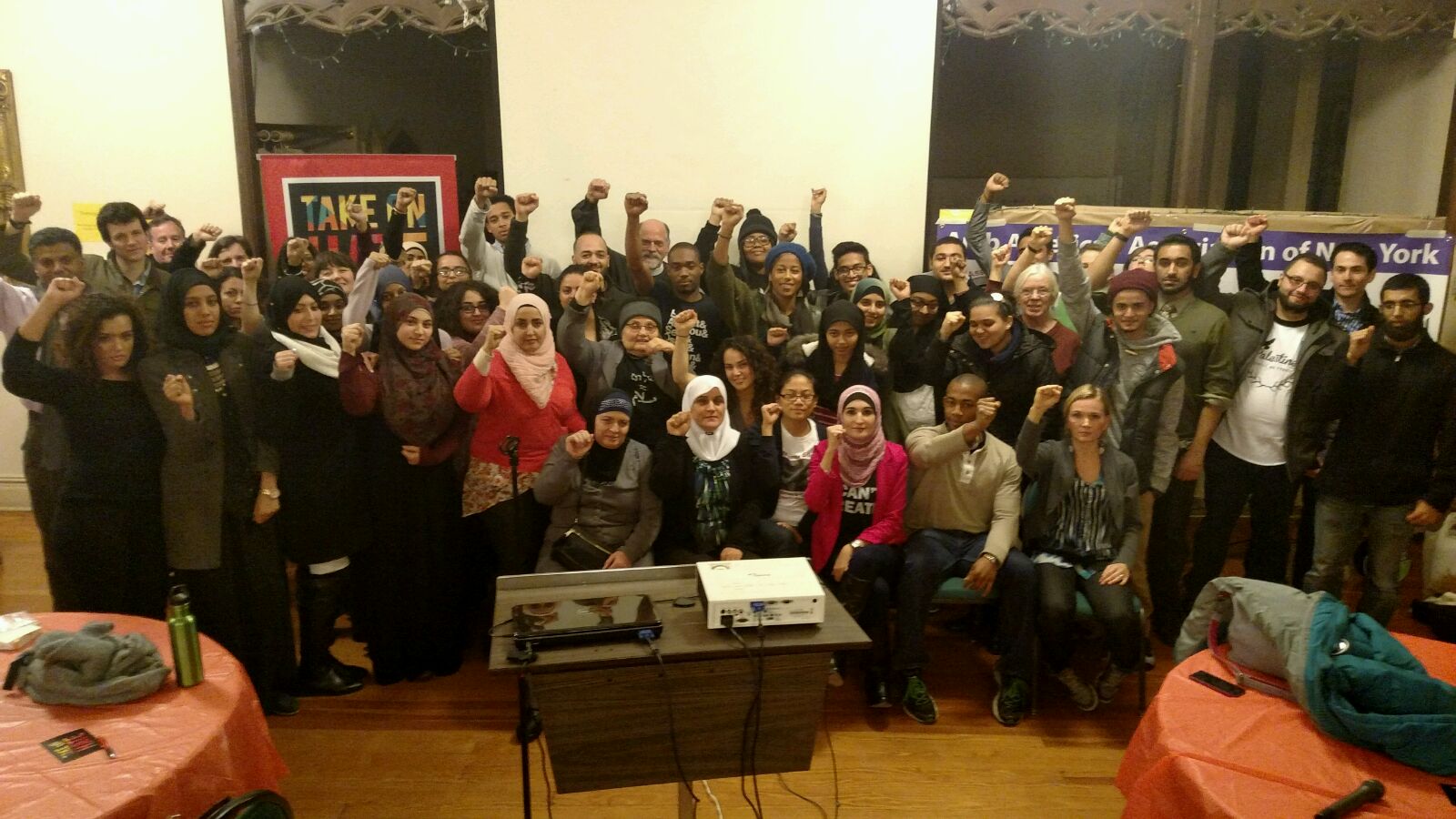 2014 December 18. REAL TALK: Where is the Solidarity?
Members of the community throughout Bay Ridge came together to talk about real solidarity between Black, Arab, and all communities. There were speaking guests from #blacklivesmatter, Justice League NYC, and Million Hoodies talking about the necessity of solidarity from Ferguson to New York City.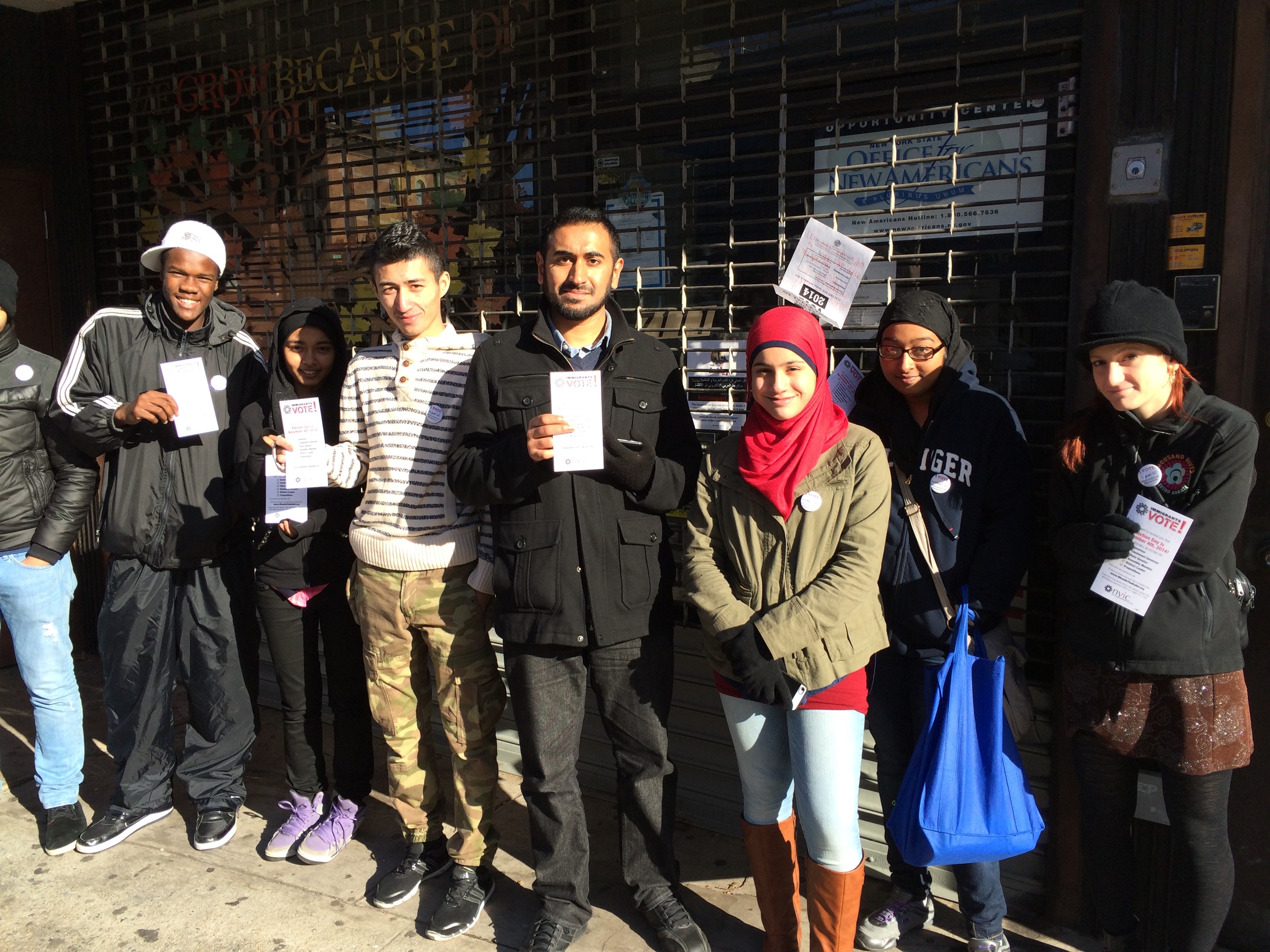 Fall 2014. Immigrant Voter Turnout with NYIC.
This 2014 election season, youth and students knock on the doors in the freezing cold to get out the immigrant vote in Bay Ridge.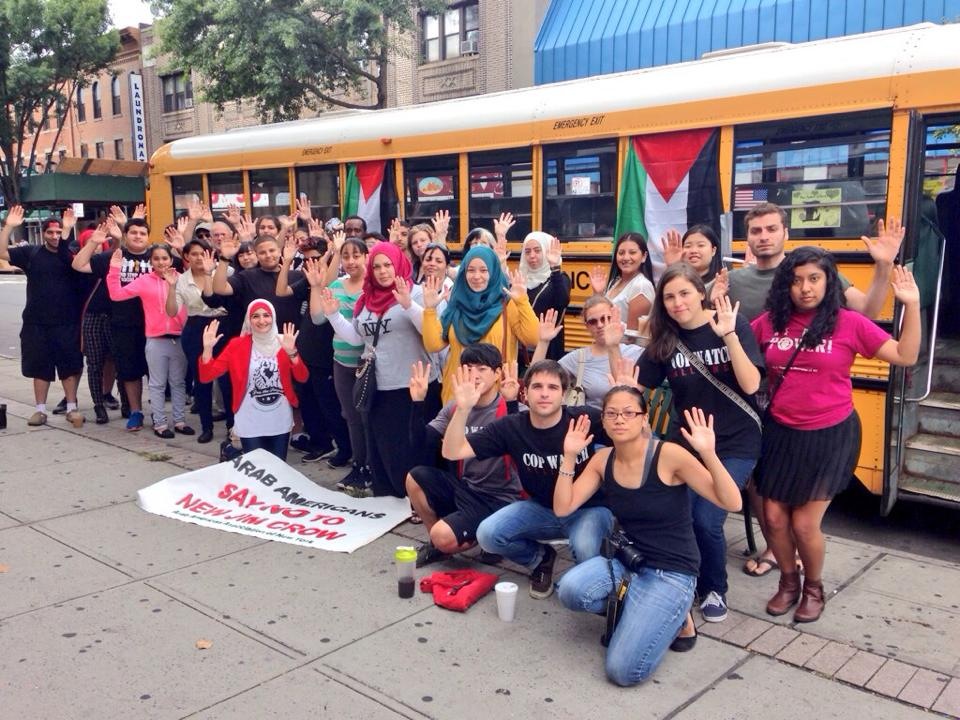 2014. August 23. AAANY Mobilizes for Justice for Eric Garner and all victims of police brutality
In Staten Island, AAANY community members and allies mobilized to take a stand against police brutality that took the life of Eric Garner in July 2014.
New York Drops Police Unit that Spied on Muslims, But Will it End Broader Profiling & Surveillance?